Interfaccia VoIP/RoIP come il modello FT636-VoIP collega il sistema in remoto, ma arriva fino a due radio in parallelo quindi gestione sistema multiplo.
The FT636B IP Interface comes into play, if one or two radio base stations are to be remote controlled. The device will provide two ethernet ports (planned, currently just one) and will connect to up to eight remote stations/consoles per ethernet port. This can be used for redundancy purposes (up to eight connections via different network paths) or for a total number of up to 16 remote consoles.
Audio signals and control signals are converted to IP data packets and transported via local network (LAN), wide area network (WAN) or internet to the remote station. Using VoIP (Voice over IP) and RoIP (Radio over IP) technology practically unlimited distances can be covered.

Features:
Support of up to 2 radio base stations
AF In/Out (transformer balanced), 2-wire or multi-wire
PTT output (potential free ralais output)
Squelch input
2 independent RS232
Remote transmission of data
Radio control
16 swithing inputs/outputs
Two (planned) ethernet network ports
supporting up to 8 remote stations
Pilot signal decoder, encoder and filter
Tone sequence decoder and encoder
Web intereace for configuration via Internet Explorer, Firefox, …
Option
FMS/FFSK decoder and encoder
The FT636B IP Interface is available in two different housings.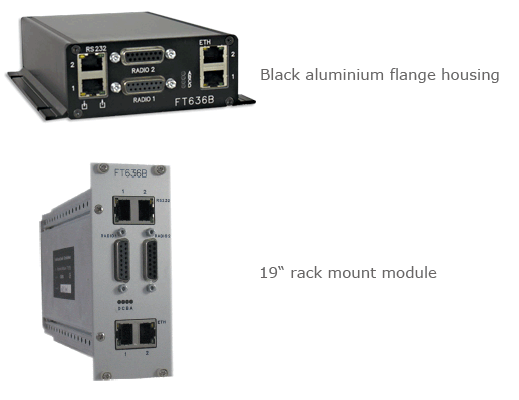 SCARICA IL MANUALE: